WE WILL MAKE YOUR SUMMER SWEET!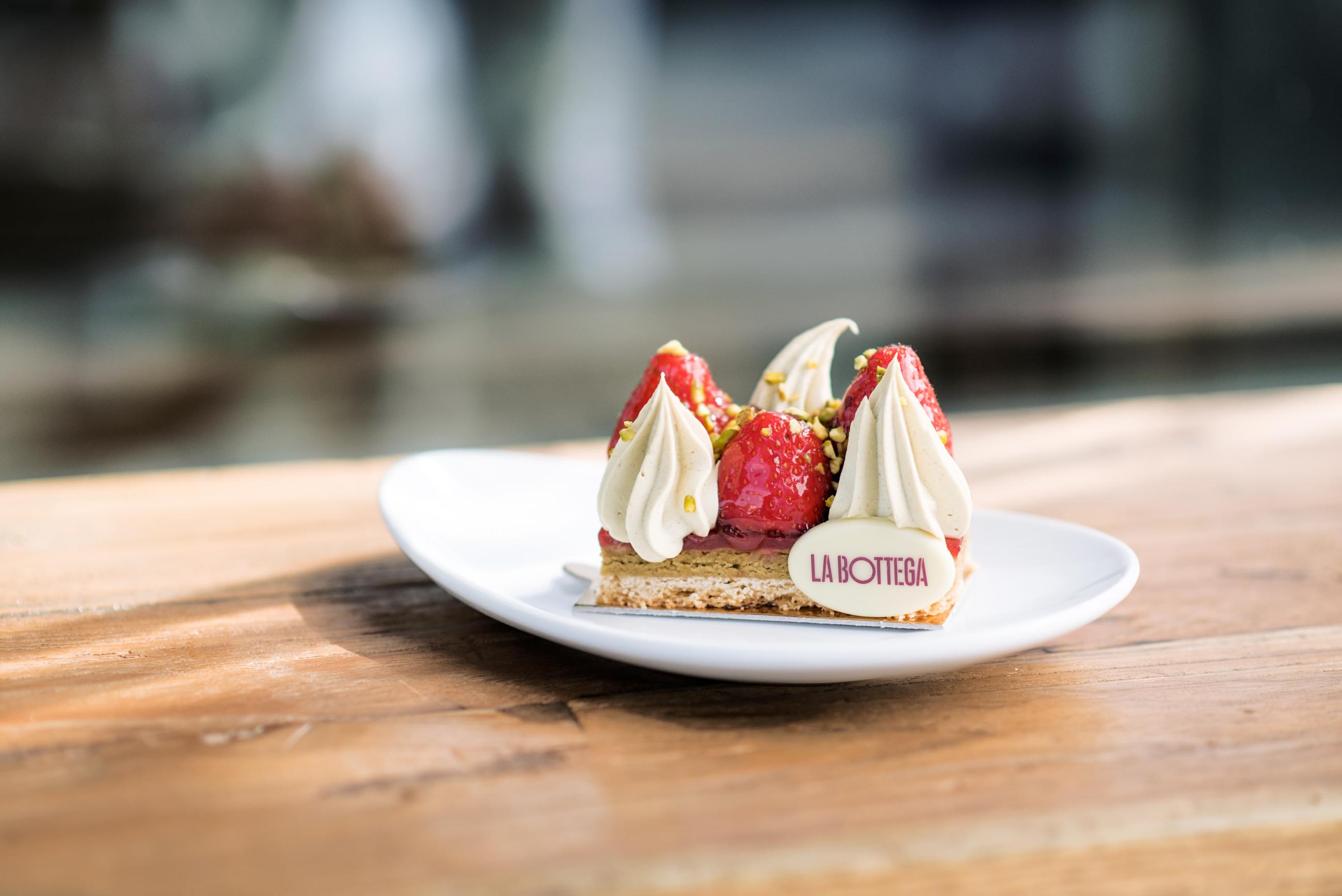 We have sweet news for you. Fresh new desserts are now appearing in our show case. You can find out now which new desserts you can taste in all our La Bottega bistros.
The new summer desserts full of fruit and fresh flavours are from our La Bottega Tusarova confectionary team, lead by head chef Danielle Combi. They have prepared dishes that feature the best tastes of summer. So now you can enjoy desserts full of raspberries, strawberries, blueberries or something more exotic like litchi.
We combine the exotic flavors of litchi, raspberries and coconut in the new dessert called Bigne Lilla. The basis is choux pastry filled with raspberry confit and litchi, coconut cream with white chocolate and crispy white chocolate topping, coconut and crushed raspberries. Hidden under the name Cestino di bosco is another new dessert with almond crust, fine almond base, raspberry confit, almond cream with chocolate Inspiration, Strawberry Valrhona with dried strawberry powder, and cream from forest fruits, also with special strawberry chocolate.
For the full-​flavor of strawberries you can enjoy Fragolosa. Next to strawberry chocolate Valrhona we put strawberry confit, almond and white chocolate cream, and mascarpone with piquant basil. Another fruity delight is the Tartaletta di fruti di bosco. We take crispy almond pastry cups and fill them with fine forest fruit cream and strawberry chocolate Inspiration Strawberry Valhrona. All decorated with fresh forest fruit.
Even people who prefer gluten-​free options have new desserts to enjoy. You can choose the refreshing Cassia, full of blueberries, lemon mousse, with white chocolate and a light fennel aroma. Or try the pistachio dessert Taormina. It's a flour-​free pistachio crust filled with a homemade bitter-​sweet compote, and mousse from a sheep ricotta.
After a year off, we welcome back Giardino di fragole, a dessert in a light almond pastry, fluffy pistachio base, homemade strawberry compote, pistachio cream and fresh strawberries.
Come choose your new sweet favorite. Let us know which dessert charms you the most. All our desserts are available for take away as an ideal gift for any occasion or a picnic in the park. Sweet summer can start now!