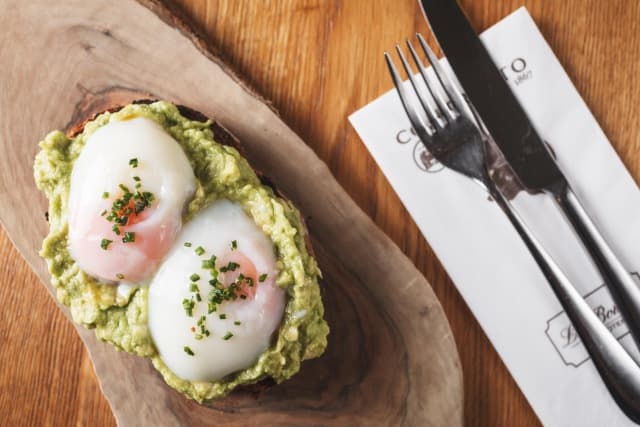 breakfast from free range egss
Eggs Benedict with sesame bagel
and prosciutto cotto
Uova benedettine con bagel al
sesamo e prosciutto cotto
Scrambled gggs with marinated salmon
Uova strapazzate con salmone marinato
Omelette with Fontina cheese
Omelette con Fontina
Mashed avocado with poached eggs
and multigrain bread
Crema di avocado, uova in camicia
e pane ai cereali
Fried eggs with pancetta
Uova e pancetta
Cannelini beans in tomato sauce with grilled sausage, quail eggs and homemade focaccia
Fagioli cannellini al pomodoro e salsiccia grigliata, uova di quaglia e focaccia fatta in casa
Pancake with maple syrup and crème fraȋche, smoothie, croissant, fruit salad, homemade jam, Altamura bread, butter

Pancake con sciroppo di acero e panna acida, smoothie, cornetto, Macedonia, la nostra marmellata, pane di Altamura e burro
Asiago cheese, prosciutto cotto, homemade
liver paté with mostarda, baked eggs with
pancetta, croissant, smoothie, Altamura
bread, butter

Formaggio Asiago, prosciutto cotto, paté di
fegato con mostarda, uova con pancetta,
cornetto, smoothie, pane di Altamura e burro
With vanilla
Alla vaniglia
With chocolate
Alla cioccolata
With apricot
All´albicocca
We serve breakfast Mo - Fr from 09:00 till11:00, during the weekend from 09:00 till 17:00.

Find the entire menu in PDF format here.

Jídelní lístek s vyznačenými alergeny je Vám k dispozici na vyžádání u obsluhy.
Pro skupiny osmi a více osob bude k finálnímu účtu připočítáno 12,5% service charge. Uvedené ceny jsou v Kč včetně DPH.