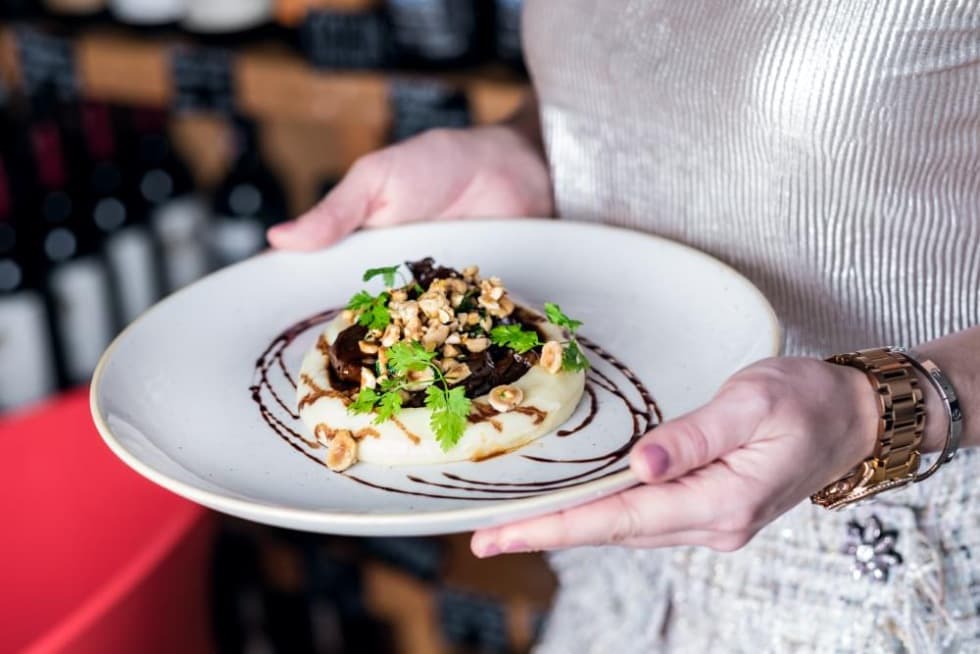 If you like soups, then you will come to yours in Bistroteka. The menu has been changed and you can now enjoy carrot soup with burrata-​truffle foam and homemade beef broth with egg yolk and passatelli - a traditional Italian kind od "pasta" with breadcrumbs to the soup in the soup.
In the pasta category you can enjoy fusilli with hare meat ragout, root vegetable and pistachios.
Then, linguine cacio e pepe with calamari. A basic recipe cooked by the Italians for centuries, roughly ground black pepper, Pecorino cheese, and now we have enriched pasta with calamari. Simple and still just great pasta.
Cheeks, wine and potato pureé, we already know that you will order this dish in winter several times, trust us. They will have veal cheeks with potato purée, red wine sauce and hazelnut gremolata.
Finally, we invite you to the duck breast with poached topinambour, figs and dried plums sauce.
And did you know that you can't refuse invitation? We are looking forward to see you in Dlouhá street, whether you stop here, today, tomorrow or sometimes, you will be welmcome. Be our guests.
Reservations can be made online, via email at bistroteka@labottega.cz or via our reservation section online.